LANDphysio is a visionary-led and highly innovative physio facility that is breaking new ground in therapy to keep its patients healthy for the long term. Since its founding in 2018, LANDphysio's CEOs, husband and wife team Andreas and Judith Bucher, have fully embraced the EGYM ecosystem, enabling them to convert 58% of their patients to members and increase their contributions by 82%.
Learn all about it in the statement video:
LANDphysio Lauchdorf: More members than inhabitants - thanks to EGYM Ecosystem.
Lauchdorf is a small community in the Ostallgäu region of Bavaria. With 370 inhabitants, it is so small that it was incorporated into neighboring Baisweil, which is almost four times as large, in 1976. You have to know that to properly appreciate what it means when a back and joint practice based in Lauchdorf currently has no less than 600 members!
Since its founding in 2018, LANDphysio's managing directors, the husband-and-wife team Andreas and Judith Bucher, have been fully committed to the EGYM ecosystem.

Andreas Bucher is a physiotherapist, his wife Judith a fitness trainer. The two had a mutual desire to start their own business. "But," says Judith Bucher, "we didn't want to do it according to the classic concept of physiotherapy, but rather in a different and completely new way. We wanted to achieve long-term solutions for our patients. Andreas had previously experienced that patients eventually become permanent patients and don't have any real success. Our vision was different. We wanted to create a place where we combine therapy with training so that our patients get a long-term solution and the actual pain just stays away."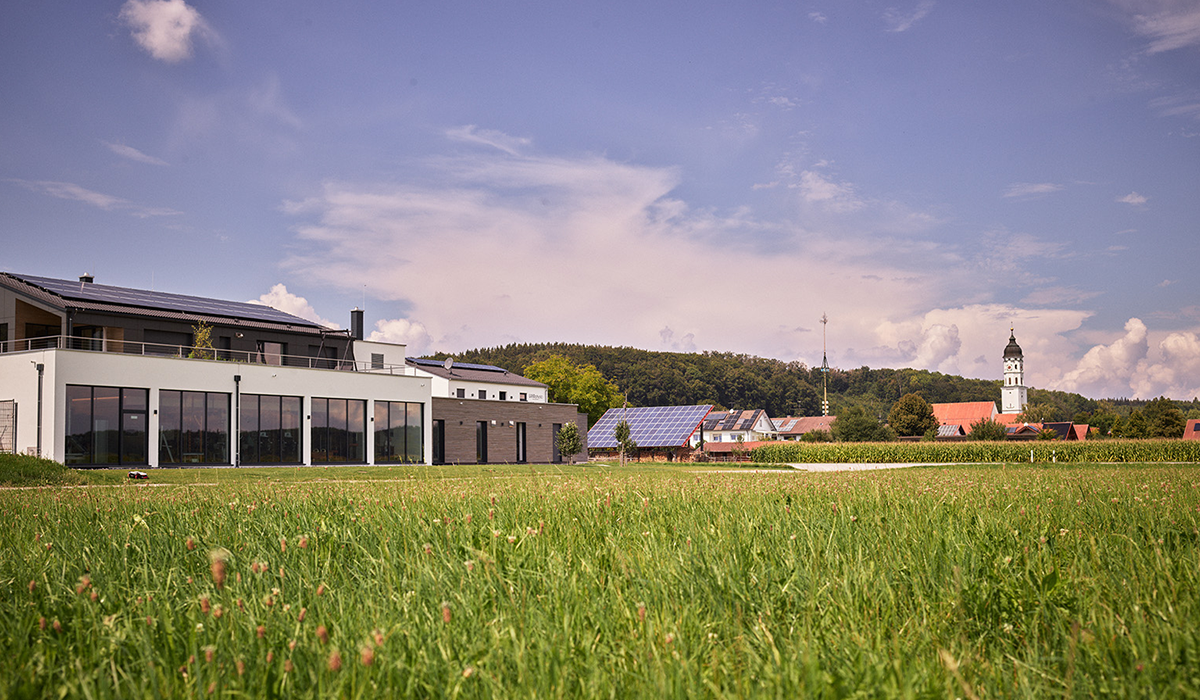 Challenge: New concept of physiotherapy and medical training
At the same time, Andreas and Judith were looking for a system that didn't force them to sit at the treatment table all the time themselves, but instead instructed patients to do something for themselves - simple, feasible for everyone, no matter what their age or situation. Judith Bucher: "Then we got to know EGYM, and with the EGYM ecosystem our concept was possible. And so we built our whole company on that. We started LANDphysio - a physical therapy and medical training therapy facility where people come who are just looking for a long-term solution."
In 2018, it took off - a 77-square-foot space with eight EGYM Strength and five Smart Flex machines. "Thanks to the EGYM ecosystem, we were very successful in executing our vision and turning our patients into long-term members. The rush was so great that we purchased additional EGYM equipment within a short period of time," Andreas Bucher recalls. "And after two years, we were at the limit of our capacity, so we decided to build an extension. Since the beginning of 2022, LANDphysio has had 550 square meters of space with 22 EGYM Smart Strength and twelve Smart Flex machines. We have seven therapy rooms and now a total of 17 employees, including five therapists.

After the expansion, membership nearly doubled in just six months.

Patient ownership
The LANDphysio team motivates its patients to exercise under their own responsibility. Andreas Bucher: "People should feel how more movement and strain changes the body. With EGYM, they see how easy it can be to become active themselves and also to carry out the training independently - in other words, without staff being present." On the EGYM equipment, patients feel safe and exercise independently just as if the therapist were there.
LANDphysio is open daily from 5:00 a.m. to 11:00 p.m., with therapists on site from 7:00 a.m. to 7:00 p.m. That means training is possible even without staff present. That's because the entire training room is digitized. Members receive access via RFID wristband, which they can use to train independently on the EGYM equipment.
The power of the EGYM Trainer App
For Andreas Bucher, one thing is certain: "Our key to success is the EGYM Trainer App, which we use a lot. It is the digital patient record for us. And with it, we have created a system in which care continues seamlessly, no matter which employee is working with the patients or members. The Trainer App shows us: where is the patient, where does he have deficits, where do we need to support him? What has he already done? That's where all the notes are entered and every staff member sees all the details for every contact. The therapist now finally has a simple tool at hand with which he can accompany the patients, improve them."
Often, he says, it is not even tangible whether the patient really has a strength deficit or not. Andreas:
"The great thing about EGYM is that we take strength measurements and then know exactly which body structure is how strong. EGYM converts that data into a Biological Age, and so it's finally tangible for me as a therapist and even more so for the patient."
Result: Patients become long-term members
The Bucher family's conclusion: "At LANDphysio, we have managed to care for such a large number of members with a relatively small number of employees, who simply feel comfortable with us and are doing well. Unlike traditional physical therapy, our patients invest in their health and sign up for six-, 12- or 24-month memberships after therapy to work on their long-term health. Ninety-five percent of our clients have signed up for 24-month memberships because they want to work on or maintain their health long-term."
Patients who are still undecided about signing up for a membership have the opportunity to take an eight-week accompanied course as part of a prevention course in accordance with §20 SGB V, which also takes place on EGYM equipment. "There, the patients feel and experience what movement and strength changes in them. The result is a success rate of 60 to 70 percent of patients who become members with us after the course."

"In total, 58 percent of patients have become members so far, and within four years it was possible to increase the membership fee by more than 80 percent," is the proud result of LANDphysio Lauchdorf.

Conclusion of Judith and Andreas Bucher
"We have managed here at LANDPhysio to care for such a large number of members with a relatively small amount of staff, who simply feel comfortable with us. Fifty-eight percent of our patients have become members in the last few years."
Owner, LANDphysio Lauchdorf

Buy EGYM directly from the manufacturer
Source and image source: EGYM
Published on: 25 May 2023