Matrix t5x Treadmills | refurbished | as new | Warranty: 6 months warranty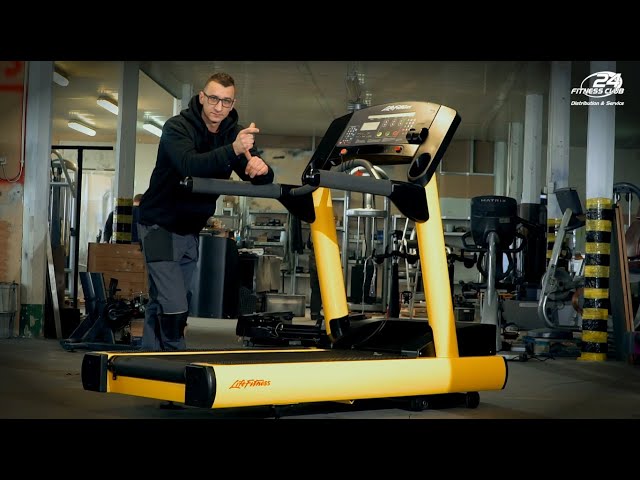 Details
| | |
| --- | --- |
| ID | 228503 |
| Category | Treadmill |
| Shipping: | Shipping costs extra |
| Brand | Matrix Fitness |
| Condition | Used (refurbished) |
| Location | Bielsko Biała, Poland |
| Year of manufacture | unknown |
Description

About us:
Fitness Club 24 is the undisputed leader in the sales of professional pre-owned fitness equipment.
In our warehouse, which is over 10000 m2, you will find everything that helps with Your fitness business.
In stock we have a wide range of used, refurbished and new fitness equipment. Both cardio and strength
machines are always at fair prices.


Why second-hand gym equipment ?
We understand that our customers want to save money, so we offer refurbished fitness equipment at bargain
prices.


What makes us different!
We don't promise - we really refurbish
We allow our customers to personalize their order according to their individual requirements,
Fitness Club 24 is the undisputed leader of supplying it's clients from A to Z.
Fitness Club 24 is the biggest on the Polish market and one of the biggest in Europe,
We have over 12 years of experience,
We have more than 10 000 m2 of warehouse full of commercial fitness equipment,
Our customers can save up to 70% of the new equipment prices,
Currently we employ around 100 qualified workers.
You don't have to look anywhere else - just trust our professionalism and experience!
Regardless of you are domestic of commercial user - you've come to the right place. For sure we will help you.
*
*
*
We have the following equipment available:
Matrix t5x Treadmills | refurbished | as new | Warranty: 6 months warranty
Price per unit exclusive of VAT.
*
*
Description:
he Matrix T5x-07 Treadmill (newer style) has a speed range of 0.8 - 24,1 km/h and an incline range of 0-15%. There is a telemetric HR receiver and a Contact HR receiver. The treadmill comes equipped with a personal fan and a step-up height of 9.5″ and a running surface of 60″ x 22″. There are over 10 workout programs including Army PFT and Navy PRT.
Weight 179 Kg
Dimensions 215x161x93
Condition
Used, Functioning
Max User Weight 182 kg
Power Requirement
20 amps, dedicated circuit required, non-looped grounded
*
*
Condition: Refurbished - AS NEW
Highest quality refurbishing guaranteed!
In the refurbishment process, each item undergoes a multi-point inspection.
Our machines are thoroughly and professionally tested.
The Machines are sandblasted to the original steel, if necessary (light scratches are usually hand-sanded).
The machines are painted and fitted with brand new parts ( NEW Treadmill belt )
Before the remanufacturing process is completed, we detail and test every unit one more time for ensured
functionality and reliability.
NEW NEW NEW!!!
Frame, cover and plastic parts colors freely selectable!
*
*
Shipping:
SHIPPING QUOTES are available by providing the name of your town and zip code.
We ship by trucking company freight and provide curbside delivery.
Prices are determined by the weight, size, quantity and zip code of the shipment.
*
*
In the photo gallery, there is a link to a short film about our company.
See how we work, how the regeneration process of fitness equipment looks like.
Find out what departments we have, what you will find in our magazines, how we can help you and what
the atmosphere is like at Fitness Club 24.
*
*
In case of any inquiries, please give us a call or send an e-mail.
*
Martin Himmel (I speak Deutsch & English)
@: b2b@fitnessclub24.pl
Tel: +4915290069709
*
Piotr Janas:
Tel: +49 15290016072 (I speak Deutsch)
@: piotr.janas@fitnessclub24.pl
*
Marcin Jedrzejko:
@: marcin.jedrzejko@fitnessclub24.pl
Tel: +48 664154741 ( I speak English, Italiano)
*
Grzegorz Dunat
@: grzegorz.dunat@fitnessclub24.pl
Tel: +48881203297 ( I speak English)
*
Robert Bacia
@ robert.bacia@fitnessclub24.pl
Tel: + 49 1529 0001 007 (I speak Deutsch, Spanisch & Englisch)
*
Gracjan Białoń
@ gracjan.bialon@fitnessclub24.pl
Tel: +48 533-337-566 (I speak Englisch) 
Contact seller
* required fields
Legal notice
Fitness Club 24 Sp.z o.o
Komorowicka 110
43-300 Bielsko-Biała
Polska
www.fitnessclub24.pl
Fitness Club 24 Sp. z o.o.
Martin H.
Ul. Komorowicka 110
43-300 Bielsko Biała
Poland
E-mail:
b2b.fitnessclub24@gmail.com
Phone:
+4915290016072
Mobile:
+4915290069709