MATRIX IC2 IndoorBike -As new - reconditioned 13 pieces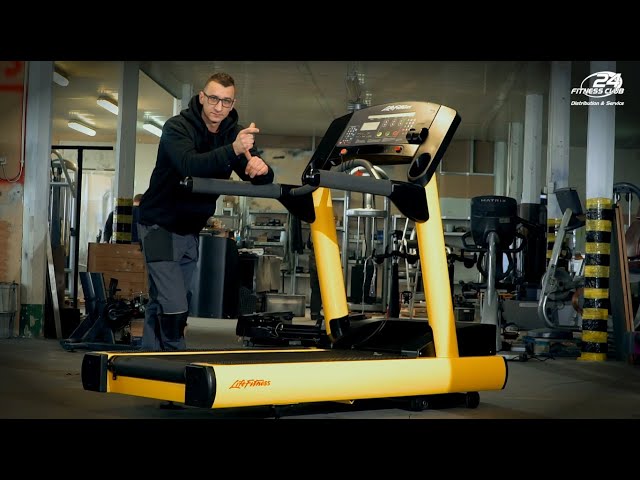 Details
| | |
| --- | --- |
| ID | 236041 |
| Category | Indoor Bike |
| Shipping: | Shipping costs extra |
| brand | Matrix Fitness |
| Condition | Used (refurbished) |
| Location | Bielsko Biała, Poland |
| Year of manufacture | unknown |
Description
Offered are: MATRIX IC2 Indoor Bike
...
Product description:
-Poly-V Belt,
-high quality flywheel 15 kg (ensures the smooth movement),
-ergonomic saddle- vertically and horizontally adjustable,
-adjustable steering wheel,
-SPD pedals with pedal hooks,
-transport wheels,
-Holders for water bottles on the bike,
-sturdy construction,
-L x W x H 120 x 53 x 110 cm,
-Product weight 48 kg,
-Max. User weight 130 kg.
...
Item condition: AS NEW - reconditioned.
Each product goes through a reconditioning process with several points through. The devices are completely disassembled, thoroughly cleaned and checked for function. Further the frames and linings are PAINTED NEW (color freely selectable) and the devices again with NEW wearing parts are assembled. Our devices receive from us basically new wear parts such as bearings, belts, oil seals, dampers, running surfaces, running boards, screws and and and.
After the repair process, the units are subjected to various tests on different test benches in order to meet the high quality demands of our customers. Last but not least, the devices are carefully cleaned again before delivery and prepared for transport and securely packed.
If you want to buy used equipment at Fitness Club 24, you can save up to 70% compared to the original price and get a NEW and fully functional device.
For many, the refurbished equipment from Fitness Club 24 has therefore become a popular alternative to buying new.
NEW NEW NEW NEW!!!
Frame colors freely selectable!
...
Warranty: 6 months
Price is a net price for 1 piece.
..
Transport:
The transportation cost depends on the destination and the size of the item.
The approximate shipping costs to Germany: 150 € net.
...
About us:
We the Fitness Club 24 are proud of our 10 year company history. At the same time, we are looking ahead and continuously developing to meet the increasingly demanding requirements of our customers. A high standard by which we are measured.
We invite you to take a journey through our company!
https://youtu.be/f2LJ7QOg4Q4
Always hundreds of fitness equipment in stock.
We always offer numerous used and new equipment at favorable conditions. Our offer includes fitness equipment of all kinds such as indoor cycles, equipment parks, home sports equipment, dumbbells, weight plates, aerobics, cardio, weight sets, accessories sports equipment and fitness items whether new or used. Browse through our offers, do not hesitate to contact us.
At present over 3000 devices on a storage area of 9000 m2!!!
We look forward to a further good cooperation with you....
...
If you do not find everything you are looking for here, your questions and suggestions are welcome at our
multilingual - team always welcome.
Martin Himmel (I speak German & English)
@: b2b@fitnessclub24.pl
Tel: +4915290069709
...
Piotr Janas:
Tel: +49 15290016072 (I speak German)
@: piotr.janas@fitnessclub24.pl
...
Marcin Jedrzejko:
@: marcin.jedrzejko@fitnessclub24.pl
Tel: +48 664154741 (I speak English, Italian)
...
Grzegorz Dunat
@: grzegorz.dunat@fitnessclub24.pl
Tel: +48881203297 (I speak English)
...
Robert Bacia
@ robert.bacia@fitnessclub24.pl
Tel: + 49 1529 0001 007 (I speak German, Spanish and English)
...
Gracjan Białoń
@ gracjan.bialon@fitnessclub24.pl
Tel: +48 533-337-566 (I speak English)
...
Please visit our website and Facebook page:
https://www.fitnessclub-24.de/
https://www.facebook.com/FitnessClub24.Fitnessgerate/
...
Fitness Club 24 Sp. z o.o.
Komorowicka 110
43-300 Bielsko-Biała
Poland
...
The pictures show the new models of the devices.
The devices can differ from the pictured
pictures in case of purchase of an older device or in used condition.
In accordance with Polish law, this information is not a commercial offer within the meaning of Art. 66 § 1, Art. 66¹ § 1 and Art. 543 of the Polish Civil Code. We inform that the presented product may not be available in stock and the price is not a commercial offer within the meaning of Art. 66 § 1, Art. 66¹ § 1 and Art. 543 of the Polish Civil Code. In order to verify the conformity of the offer and obtain information, please contact our Sales Department.
Contact seller
* required fields
Legal notice
Fitness Club 24 Sp.z o.o
Komorowicka 110
43-300 Bielsko-Biała
Polska
www.fitnessclub24.pl
Fitness Club 24 Sp. z o.o.
Martin H.
Ul. Komorowicka 110
43-300 Bielsko Biała
Poland
E-mail:
b2b.fitnessclub24@gmail.com
Phone:
+4915290069709
Mobile:
+4915290016072