Matrix e5x Crosstrainer / Cross Trainer / Elliptical / 10 pieces in stock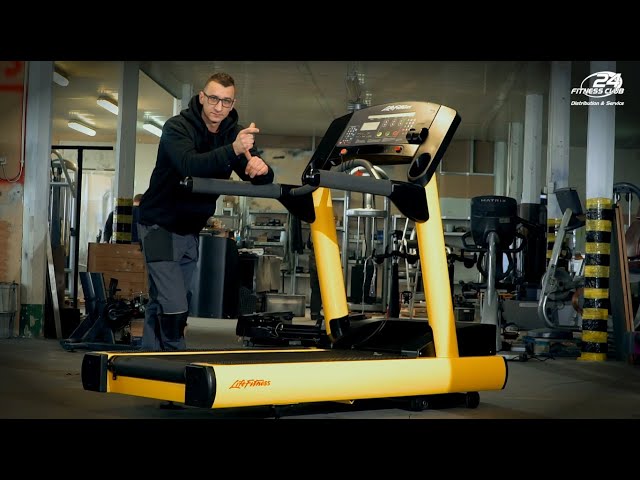 Details
Description
About us:


Fitness Club 24 is the undisputed leader in the sales of professional pre-owned fitness equipment.
In our warehouse, which is over 10000 m2, you will find everything that helps with Your fitness business.
In stock we have a wide range of used, refurbished and new fitness equipment. Both cardio and strength
machines are always at fair prices.


Why second hand gym equipment ?
We understand that our customers want to save money, so we offer refurbished fitness equipment at bargain
prices.


What makes us different!
We don't promise - we really refurbish
We allow our customers to personalize their order according to their individual requirements,
Fitness Club 24 is the undisputed leader of suppling it's clients from A to Z.
Fitness Club 24 is the biggest on the Polish market and one of the biggest in Europe,
We have over 12 years of experience,
We have more than 10 000 m2 of warehouse full of commercial fitness equipment,
Our customers can save up to 70% of the new equipment prices,
Currently we employ around 100 qualified workers.


You don't have to look anywhere else - just trust our professionalism and experience!
Regardless of you are domestic of commercial user - you've come to the right place. For sure we will help you.
*
*
We have the following equipment available:
Matrix e5x Crosstrainer - 10 pieces in stock
*
*
Product Description
- Matrix E5x Elliptical Trainer has a stride length of 53.3cm and a resistance range of 1-25.
- Assembled size of 178 x 74 x 174cm.
- Intuitive LED console display.
- Compatible with iPod for charging.
- Integrated 3-speed personal fan.
- 21" stride length accommodates all users for a comfortable, efficient, and natural workout.
- Constant Rate of Acceleration and our patented suspension design delivers a perpetually smooth motion free of wheels and tracks.
- Contralateral action with tapered, dual action handlebars mimics the body's true movement and proper fit.
- Ergo Form™ Grips with integrated resistance controls enhances comfort and accessibility to key functions.
- Low 9.5" step-on height for easy accessibility.
- Removable disk for easy serviceability.
- Self-powered system provides cost-savings and freedom of placement within facility.


*
*
Condition:  Cleaned & Serviced
In the cleaning and service process each item undergoes a multi-point inspection.
In the course of this process each item has been thoroughly cleaned, serviced and tested by our technician
and will be in full working condition. All wear parts of the machine have been checked and tested for defects
and will be fully functional. Finally, we remove slight scratches and reduce slight signs of wear.
On customer request and surcharge, a refurbishment of the equipment is possible!
*
*
Warranty:
6 months warranty
*
*
Shipping:
SHIPPING QUOTES are available by providing the name of your town and zip code.
We ship by trucking company freight and provide curbside delivery.
Prices are determined by the weight, size, quantity and zip code of the shipment.
*
*
In the photo gallery, there is a link to a short film about our company.
See how we work, how the regeneration process of fitness equipment looks like.
Find out what departments we have, what you will find in our magazines, how we can help you and what
the atmosphere is like at Fitness Club 24.
*
*
Contact
In case of any inquiries, please give us a call or send an e-mail.
Martin Himmel (Ich spreche Deutsch & English)
@: b2b@fitnessclub24.pl
Tel: +4915290069709
*
Piotr Janas:
Tel: +49 15290016072 (Ich spreche Deutsch)
@: piotr.janas@fitnessclub24.pl
*
Marcin Jedrzejko:
@: marcin.jedrzejko@fitnessclub24.pl
Tel: +48 664154741 ( I speak English, Italiano)
*
Grzegorz Dunat
@: grzegorz.dunat@fitnessclub24.pl
Tel: +48881203297 ( I speak English)
*
Robert Bacia
@ robert.bacia@fitnessclub24.pl
Tel: + 49 1529 0001 007 (I speak Deutsch, Spanisch & Englisch)
*
Gracjan Białoń
@ gracjan.bialon@fitnessclub24.pl
Tel: +48 533-337-566 (I speak Englisch) 
Contact seller
* required fields
Legal notice
Fitness Club 24 Sp.z o.o
Komorowicka 110
43-300 Bielsko-Biała
Polska
www.fitnessclub24.pl
Fitness Club 24 Sp. z o.o.
Martin H.
Ul. Komorowicka 110
43-300 Bielsko Biała
Poland
E-mail:
b2b.fitnessclub24@gmail.com
Phone:
+4915290069709
Mobile:
+4915290016072