20 x PRECOR 865 with P62 Console upright bike - CURRENT model!!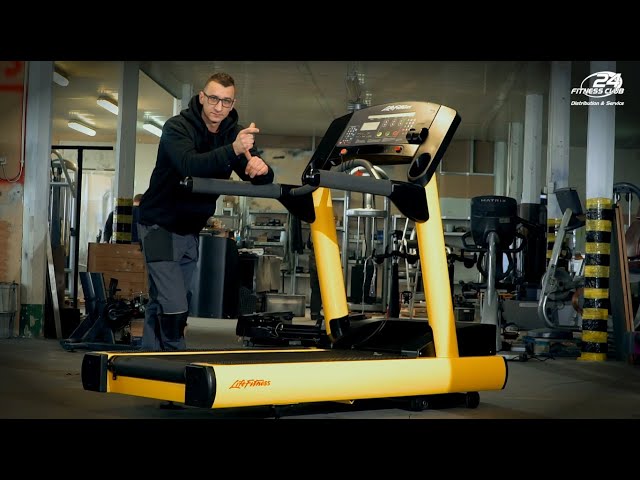 Details
| | |
| --- | --- |
| ID | 236997 |
| Category | Indoor Bike |
| Shipping: | Shipping costs extra |
| Brand | Precor |
| Condition | Used (very good) |
| Location | Bielsko Biała, Poland |
| Year of manufacture | unknown |
Description
We have the following equipment available:

20 x PRECOR 865 P62 upright bike - CURRENT model!!
-Features custom-designed handlebars with integrated touch heart rate,
-Three ergonomic riding positions: upright, cruising and road,
-One-handed seat adjustment on or off the bike, 
-The easy-to-remove shroud ensures easy access to the belt-drive system for maintenance and servicing without removing the pedals or crank,
-The P62 touch screen console provides a personalised viewing experience and remarkable TV clarity, 
-Dual accessories holder for water bottle, portable music, keys, etc,
-Transport Wheels,

-Dual-sided pedals allow the rider to use the pedals with or without the integrated pedal strap,

-To achieve proper pedalling biomechanics, the seat post angle and seat post offset from the crank are key to aiding in efficient pedalling and reduced shear force on the knee,

-The two-stage drive system yields a smooth, comfortable, quiet operation,

-Resistance Level 25,

-Belt drive for smoother, quieter operation and reduced maintenance,

-QuickStart,
-Smooth adjustment of the resistance range of the scale of 1-25,
-17 training programs,

-Maximum User Weight 159 kg,

-Length 122 cm,

-Width 53 cm,
-Height 157 cm,
-Weight 77 kg.
 ...
Condition: Clean&Working
The product in this condition is complete, working, cleaned, packed for dispatch or personal pickup.
 Price per unit.
...
Warranty: no warranty
...
On customer request and surcharge, a refurbishment of the equipment is possible!
Price for the reconditioned device: 2749€ netto.
In the refurbishment process, each item undergoes a multi-point inspection.
Our machines are thoroughly and professionally tested.
The Machines are sandblasted to the original steel, if necessary (light scratches are usually hand-sanded).
The machines are painted and fitted with brand new upholstery.
Before the remanufacturing process is completed, we detail and test every unit one more time for
ensured functionality and reliability.
NEW NEW NEW!!!
WE CAN ADJUST THE COLOR OF FRAMES, PLASTICS AND UPHOLSTERY TO CLUB DECORATION
OR INDIVIDUAL CUSTOMER WISHES! (THIS SERVICE POSSIBLE WITH FULL REFURBISH CONDITION)
...
Shipping:
SHIPPING QUOTES are available by providing the name of your town and zip code.
We ship by trucking company freight and provide curbside delivery.
Prices are determined by the weight, size, quantity, and zip code of the shipment.
...
About us
Fitness Club 24 is the undisputed leader in the sales of professional pre-owned fitness equipment.
In our warehouse, which is over 10000 m2, you will find everything that helps with Your fitness business.
In stock, we have a wide range of used, refurbished, and new fitness equipment. Both cardio and strength
machines are always at fair prices.
You don't have to look anywhere else - just trust our professionalism and experience!
Regardless of you are a domestic of commercial user - you've come to the right place. For sure we will help you.
...
In the photo gallery, there is a link to a short film about our company.
See how we work, how the regeneration process of fitness equipment looks like.
Find out what departments we have, what you will find in our magazines, how we can help you,
and what the atmosphere is like at Fitness Club 24.
...
Contact
In case of any inquiries, please give us a call or send an e-mail.
...
Martin Himmel (I speak German & English)
@: b2b@fitnessclub24.pl
Tel: +4915290069709
...
Piotr Janas:
Tel: +49 15290016072 (I speak German)
@: piotr.janas@fitnessclub24.pl
...
Marcin Jedrzejko:
@: marcin.jedrzejko@fitnessclub24.pl
Tel: +48 664154741 ( I speak English, Italiano)
...
Grzegorz Dunat
@: grzegorz.dunat@fitnessclub24.pl
Tel: +48881203297 ( I speak English)
...
Robert Bacia
@ robert.bacia@fitnessclub24.pl
Tel: + 49 1529 0001 007 (I speak German, Spanish & English)
...
Gracjan Białoń
@ gracjan.bialon@fitnessclub24.pl
Tel: +48 533-337-566 (I speak English)
...
Please visit our website and Facebook page:
https://www.fitnessclub24.co.uk/
https://www.facebook.com/FitnessClub24.Fitnessgerate/
...
Fitness Club 24
Komorowicka 110
43-300 Bielsko-Biała
Poland
...
Pictures present brand new models of the offered equipment.
Styling may differ in case buying used or personally customized machines.
According to Polish law, this information is not a commercial offer within the meaning of Art. 66 § 1, Art. 66¹ § 1 and Art. 543 of the Polish Civil Code. We inform that the presented goods may not be available on stock and their price is not a commercial offer within the meaning of Art. 66 § 1, Art. 66¹ § 1 and Art. 543 of the Polish Civil Code. Please contact our Sales Department to verify availability of the goods and to obtain additional informaton.
Contact seller
* required fields
Legal notice
Fitness Club 24 Sp.z o.o
Komorowicka 110
43-300 Bielsko-Biała
Polska
www.fitnessclub24.pl
Fitness Club 24 Sp. z o.o.
Martin H.
Ul. Komorowicka 110
43-300 Bielsko Biała
Poland
E-mail:
b2b.fitnessclub24@gmail.com
Phone:
+4915290016072
Mobile:
+4915290069709